Détails

Catégorie : Jeux web
Affichages : 7187
Tanki online, le premier jeu 3D Flash multijoueurs, participe à de virulentes...
...batailles
The game combines the loveliness of Battle City classics of NES epoch, modern 3D-shooter dynamics and excitement of online games. With all these great elements Tanki Online doesn't require HDD installation and can be run on any Internet-connected PC. Just a simple one-minute registration sets you apart from colossal tank battles.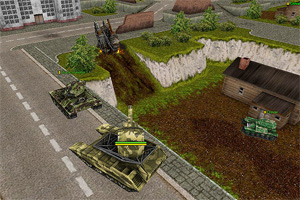 Only real players fight each other on 3D maps. Each tank in the game is driven by real people. Player vs player battles open great potential for fascinating challenges and cooperative actions. Revenge your foes, form teams, invent tricky tactical moves — all means are good in the war.
Become an experienced tanker under the cannonade thunder. There is a complex rank system in the game. The higher your rank is, the more powerful tank you can build. A player gets access to new armor, weapon and other tank upgrades with new rank.
Tanki Online already deserved such prestigious awards like «The Best Game without Publisher» and «The Best Technology» at KRI 2009 expo and «Technical Achievement» at Russian Flash Awards 2009. But project development didn't stop. We are constantly working on new elements, organize different contests and tournaments with precious prizes. Everyone can make a contribution to the game. Your ideas and offers are welcome!
Everybody will find something interesting for himself in Tanki Online – an entertaining 3D-action game, which is the arena for serious competitions and place for meeting and communication with friends as well. So… get ready to rumble!
JOUER MAINTENANT >>